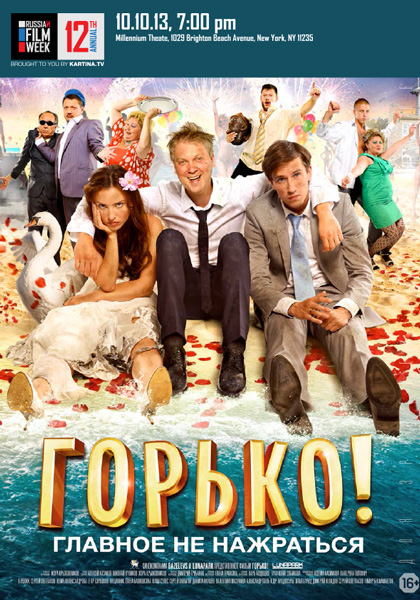 Gorko!
October 10th, 7PM Millennium Theater
1029 Brighton Beach Ave, Brooklyn, NY 11235

Russia 2012 | 100 min | 12+
Director: Jora Kryzhovnikov
Producers: Ilja Burec, Dmintriy Nelidov, Sergey Svetlakov, Timur Bekmambetov
Writers: Aleksey Kazankov, Nikoly Kulikov, Jora Kryzhovnikov
Starring: Sergey Svetlakov, Jan Tsapnik, Julia Aleksandrova, Jegor Koreshkov, Sergey Lavigin, Danila Jakushev
Production Company: Lunapark, Bazelevs
Roman and Natalie is a young and progressive couple who dream about European wedding on the shore of the sea, but Natalie's step father has a different plan for the wedding. Arrogant city official thinks that he can use this occasion to jump start his own career and he will do everything according to his plan. The young couple will spend unforgettable night in the restaurant called Golden where boring traditional wedding events are going to be observed. They have no choice but to have their dream wedding secretly without conservative parents. Unfortunately, two different weddings become one because of the silly mistake.